Over the past year, I have been exploring the infographic created by BOMA International to demonstrate the value of our association.
We finally have come to the section nearest and dearest to my heart—floor measurement standards. And, it's not just near and dear to me; during my travels as BOMA International chair and as a member of the International Property Measurement Standards Coalition's Standard Setting Committee, I have discovered that BOMA International's floor measurement standards truly are the standard for determining rentable square footage every-where from Rhode Island to Russia.
To illustrate just how important the proper measurement of a commercial property is, I would like to share one of many experiences from my career. A number of years ago, I was given the opportunity to oversee a national portfolio of office, industrial and retail properties, and one of the first steps I took was to examine and, if necessary, re-measure each property according to the BOMA Standards. At one Class A office building, we were struggling to attract new tenants, despite the fact that the property recently had earned the LEED Gold certification. The management and brokerage teams met with us to discuss the challenges. They shared that our expenses per square foot were higher than what the market would tolerate – in fact, our team discovered that they were higher than the market average by using the Office Experience Exchange Report – and that the "load factor" for the property also was too high. Additionally, we discovered that some areas of the building had not been measured or included since the "load factor" already was too high.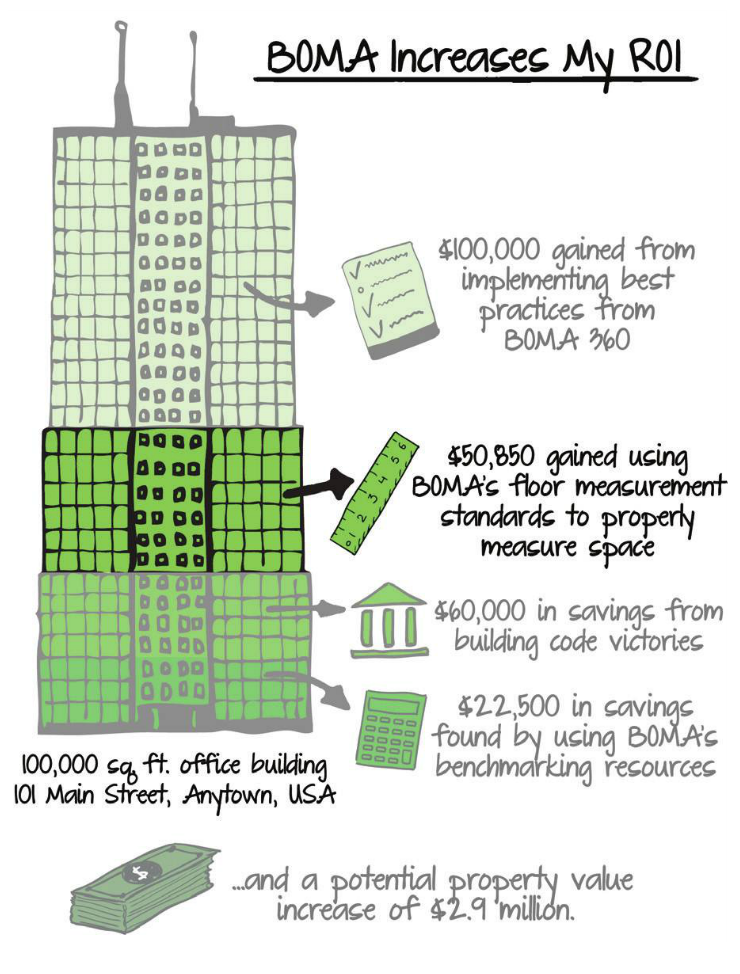 Using the latest edition of BOMA International's office floor measurement standard, Office Buildings: Standard Methods of Measurement (ANSI/BOMA Z65.1-2010), we had the entire building re-measured. We were able to establish leasing guidelines that helped reduce excessive corridor creations. The team discussed ways to combine amenity and service areas in a manner that would enhance the project and make the property more efficient. As we finished the exercise and established future guidelines, we found the property actually was two or three percent larger; was below market rate for operating costs per square foot; and had a very favorable "load factor." The property welcomed its first new large tenant within three months of these efforts.
As BOMA has engaged more on the international stage, I have found that, not only is BOMA a well-known leader in the global commercial real estate industry, but the BOMA Standards also are being used in every corner of the world. BOMA International is a founding member of the International Property Measurement Standards Coalition, which seeks to create global property measurement standards to provide a consistent and accurate way to measure property worldwide. Our leadership is critical to this international movement, and, through our involvement, I have found that many countries and companies are interested in managing their properties "the BOMA way." They understand the value that it can bring to their assets.
My activity in BOMA International and especially the Floor Measurement Standards Committee has led to enormous benefits for my employers and the owners we served. Over my career, I have easily added millions of dollars to the value of the properties I have had the opportunity to oversee.
So, looking back at our trusty building infographic, let's consider the quantifiable impact that properly measuring a typical 100,000-square-foot office building can have on asset value: If the building sees a two to three percent increase in rentable square footage by correctly measuring the property to the BOMA Standards, that translates into an additional $50,850 in revenue. Have you measured your property lately? You might be surprised by the value you discover when you take the time to do so.
ABOUT THE AUTHOR: Kent Gibson, BOMA Fellow, is the 2015-2016 chair of BOMA International. He also serves as president of Capstone Property Management, L.C. in Salt Lake City.
Reprinted with permission ©2016 Building Owners and Managers Association (BOMA) International.  All rights reserved.